Handyman's corner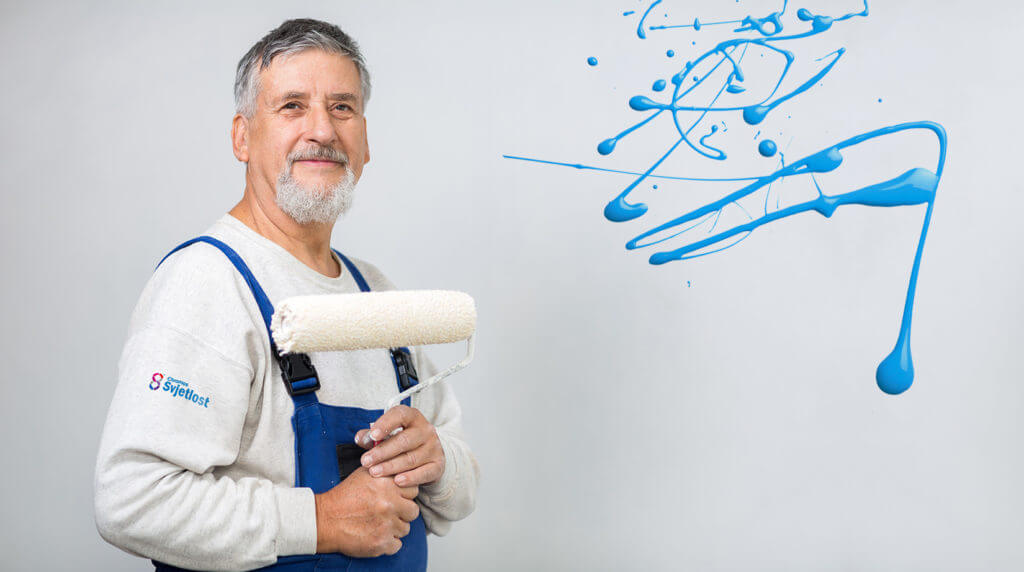 There are more and more people who are brave enough to take over the tasks of home decoration upon themselves and bring a breath of fresh air to the interior by painting the interior walls or fixing an exterior facade. Painting on one's own not only stimulates creativity and releases the hormone of happiness upon a successful completion of the project, but it is also considerably cheaper than hiring a handyman.
Tips ↑
1. Smooth out cracks and unevenness
The surface being painted should be perfectly smooth if you expect perfect results. Sandpaper is your trusty ally in dealing with any unevenness. Sandpaper the wall from bottom to topin horizontal motions. Apply medium pressure with your hand – strong enough to remove the unevenness, but not too strong so that it creates new damage. After that, check for any larger cracks. You can fix those using a levelling compound, but don't forget to sandpaper this part of the wall as well to even it out.
2. Mask all corners with tape and secure it
All corners of the wall should be masked with tape. Use protective crepe masking tape made especially for painting, because it leaves no sticky residue after removal as is the case with many other types of adhesive tape. To prevent paint from creeping under the tape, press it down using a paint scraper to force out any air bubbles hiding under the surface and close all gaps through which paint might creep under.
3. Don't use plastic sheets to cover the floors
If you're afraid of ruining your floors during painting, cover them with a cotton canvas. Plastic sheets tear easily and paint dripsare slower to dry because you often track paint around your home with your footwear. Although canvas is a more expensive floor protection solution, it is definitely more efficient because it absorbs paint drips and isn't slippery to walk on. You can buy canvas by the metre in all shops specialised in selling fabric and cloth.
4. Wash out your roller (or cover) prior to use
If you've bought a roller with detachable covers, remove them from the roller frame and wash them with water and a little liquid soapbefore first use. You can do the same with a regular roller without a cover. This way, you will remove all loose threads from the roller which might otherwise end up on your walls. Squeeze out the cover or the roller well after washing and you can useit for painting without drying it first.
5. Use a tinted basecoat
Smoothed-out areas are often visible after the application of a white basecoat. This happens because the smoothing compound draws out moisture from the paint, thus creating a visual effect of pale stains. The solution to this problem is the application of a tinted basecoat instead of a white one. If you're planning a neutral finishing coat, go for a neutral basecoat. It's important that the basecoat is similar to the topcoat, so ask your salesperson to help you choose correctly.
6. Cross-mix your paint
Depending on the area you intend to paint, you might need several containers of paint. It is no secret that paint for the same manufacturer can vary between different buckets of paint, so prior to paining, cross-mix a required amount in a bucket to ensure consistency.
7. Paint with a 'soaked' roller or brush
Most of us have a habit or rubbing the roller or brush against the paint container after dipping in order to remove excess paint, but by doing so we are actually removing most of the paint. Pros will, instead, lightly tap each side of the roller or brush against the paint bucket, which will remove the actual excess paint, but leave enough paint on the tool for proper painting.
8. Start painting from the ceiling
If you are painting the whole room, the cardinal rule in this situation is to paint the ceiling first. By doing so, we are preventing paint from dripping onto walls, which is unavoidable with any painting work.
9. Finish one wall before moving onto another
Painting all corners of the room and moving onto the walls seems like the easier option, but if you want your room looking flawless in the end, treat each wall separately. Walls can have an uneven appearance because paint applied by brush (the corners) and paint applied by roller (wall surface) cannot be cross-mixed if applied at different times. For this reason, complete the corners of one wall and immediately paint the rest of the wall with a roller to make sure the paint blends properly and dries at the same time.
10. Remove paint from windowpanes with a razorblade
Paint residue on windowpanes can hardly be avoided, but don't fuss about it because it is easy to remove. Don't touch the paint while it's wet; wait for the paint to dry and scrape it off using a simple razorblade.
Do it yourself ↑
Facade
The facade is the first thing that reveals the character of the house, and the character of its occupants. It's no wonder that decisions on choosing the facade always take a long time.It reflects the individual nature of the owners, and the aesthetic created by the designer. Everyone wants the facade to withstand mechanical damage and fading caused by the Sun.However, even the most beautiful facade will wear down eventually.The process cannot be stopped, but we can stop the factors which accelerate the wear and tear.
The biggest dilemma for most people is choosing a colour which will blend well with the surroundings, and won't annoy the neighbours, while still making the house look special.Also, modern dark facades must adhere to technical requirements for the wear and tear to be less visible.The absorption of sunlight is important for energy efficiency.
Even though neutral colours may seem boring for using on facades, they are nevertheless practical for a multitude of reasons.Neutral colours are simpler to apply, and less risky. They blend well in any neighbourhood, look good in almost any environment, and are easy to clean.
Dirt and filth accumulated on a house painted in a neutral colour are not as visible as impurities on a house painted a light or very dark colour.
The endurance of a facade tone depends on environmental factors and materials used in the final coating.The exterior of buildings is exposed to the environment.The Sun, rain, snow, harmful substances and similar factors leave their traces, as well as changes in temperature.It is important to keep in mind the following: the darker the tone, the more visible the wear.Humidity is the carrier of acidic ions, which cause armature rust, and the cause of micro-organism growth (mould, algae, moss).This natural ageing process can be slowed down by applying various coatings to the facade.
Learn how to properly skim walls
Paint, wallpaper, or other similar surfaces can be applied after skimming.This process can be approached in multiple ways, depending on the kind of finishing you want.Before skimming, you have to know what will you apply to your skimmed walls in order to achieve the desired effect.
This is very important, because various skimming compounds and techniques are used.
Why is skimming important?
When refurbishing or removing layers on the wall, bumps, cracks and similar damage may occur. That's why skimming is important, and it is done before applying any paint, to fix the damage and protect the walls for the future.
The skimming procedure
The first thing that needs to be done is to prepare the walls.In case the wall is dirty, it is very important to clean it.Potassium soap dissolved in warm water is most frequently used to clean walls.Only after the walls have been cleaned and dried can you start skimming.
Skimming compound
The first layer of the skimming compound has to be a bit thicker than the next ones.The mixture is prepared by mixing water and the compound with a whisk-like tool or a mixer.If the bumps and cracks are big, a thicker layer of the skimming compound has to be applied. In that case, the mixture itself has to be thicker.
Preparing the skimming compound
After following the manufacturer's instructions and mixing until the compound becomeshomogeneous, it is very important to leave the mixture to sit for 15 minutes, and during that time all the additives will start to react.After that, one more mixing is required before skimming.
Applying the skimming compound
The material is placed on a trowel and applied diagonally on the wall.You can have a spatula at hand to collect the excess material and reapply it as needed.
Sanding
After letting the first layer dry, it's time for sanding.Sanding is done with a fine sandpaper and using circular motions. This removes all the bumps and excess material from the walls.Afterwards, it is mandatory to once again apply the base coat, in order for the second layer of the skimming compound to bind properly.
Second skimming compound layer
The second layer is prepared the same way as the first one, but this one doesn't have to be as thick.This layer is used for filling holes left behind after the first layer.After applying and drying the second layer, another round of sanding is needed, and this will result in a completely straight wall.
In case you are not satisfied, the procedure can be repeated once again, but using an even more liquid skimming compound.After that, the wall can be painted, but only when its completely dry.
All skimming compound packaging has the required drying time listed, but two to eight hours is ideal.
Protection for painting furniture
Step 1 - prepare the space
It may sound trivial, but before you start, you have to pick a good space for painting your furniture.
If you do it in a damp space (like a basement), it will take the paint longer to dry.A warm and dry room will yield far better results than cold and damp ones.
If your space is full of dust and flies, mosquitoes and other bugs can get in, it is most likely that some of them will stick to your furniture while the paint dries.The room shouldn't be too small, so you can paint without anything getting in your way.
Protect the floor with cellophane, a tarpaulin or similar items.
Make sure the room gets enough air, and that you can open the windows easily.That will cut some time from drying.
You have to be protected also!Put on some gloves and a face mask, because paints and varnishes are volatile, and can harm your health.
Step 2 - preparing your furniture
1. Remove all parts of the furniture you won't be painting (metal handles, hinges etc.).
2. If there are cracks or holes in the furniture, take some time and fix them.Use wood putty, available in various colours.First clean the crack and apply the putty with a spatula. Smooth it out and leave to dry.(The instructions list the drying time; usually it takes the surface layer 20 minutes to dry, and the deep layer around 4 hours)After drying, apply an oil-based or alcohol-based retting agent.If you need to fix a crack on a piece of furniture made out of plywood, use oil-based putty, because plywood is extremely porous.
3. Before repainting the wood, the surface must be clean, or the new layer will be grainy, and will start to shed in time.Dust on the surface can be washed or removed with a paintbrush or a vacuum cleaner, and corners are best cleaned with a pointy object or a paintbrush.You can wash furniture with washing powder, washing soda, and any other mild washing agent.
4. Remove the old coat of paint by sanding.A common mistake people make is following instructions on various products, that tell them how it is not necessary to sand furniture.However, sanding all surfaces is crucial.Be careful not to cause any damage.The point of sanding is to make the surface a bit more rough, so the base layer of paint would adhere better.Pick a medium grained sandpaper, like P120. If you are striving for perfection, after sanding with P120, use some finer sand paper like P200, P240, or even P400.
5. Remove residue with a damp cloth and repeat the process if needed. Wait for the furniture to dry out.
Step 3 - applying the base coat
The base coat is applied first, so that the paint or varnish would stick to the wood evenly, and last longer.The base coat doesn't need to be applied meticulously as the paint.It is more important to cover all surfaces that you are going to paint.Base coat dries pretty quick, so you can start painting right after it dries.If you want your paint to stick really well, you can also sand the base coat using very fine sandpaper.Make sure to wipe off the dust with a damp cloth, and wait for the surface to dry out.
Painting furniture with a brush:
Step 4 - painting
Painting furniture using the right colour or varnish will be easy, after you've done all the preparations.
Just keep in mind that you will probably need to apply several layers of paint or varnish.One is not enough, two are satisfactory, and up to six is the number of layers real professionals paint.The process itself is not difficult, but it is time-consuming, seeing that each layer has to dry for a couple of hours before applying the next one.
The paint or varnish can be applied with a roller or a brush.A more expensive brush will yield better results and will last for years.Painting with a low quality brush leaves marks and hairs on the paint.
When applying varnish, start with two to three strokes with the grain, to paint a stripe.Without dipping the brush, change the direction and distribute.Dip the brush, and make another stripe, next to the previous one.The tip of the brush must go over the previous stripe, because the overlaps will be visible.Paint the whole surface, and finish up with vertical strokes.Lacquer paint has to dry for a couple of hours.The surface mustn't be touched (they're sticky) during that time.After applying each layer, the surface needs to be sanded with fine sandpaper, so that the next layer will have something to adhere to.Any excess dust must be removed after sanding.
Step 5 - applying the final layer
With a clean brush, after the lacquer paint has completely dried, you can apply the protective water-based coating.Apply it very gently, without leaving bubbles. The surface must be smooth.Leave to dry for at least 72 hours.
Frequently asked questions ↑
I would like to line a wall in my kitchen with comic book pages.Naturally, this poses a problem: How do I protect it from moisture, heat, and grease?I thought about covering them with glass, butthen we would have to worry about condensation or bugs getting stuck behind it. We also thought about printing them on glass, but that's quite expensive.Is it possible to apply Top Gloss or another coating to protect the paper, making it heat-resistant and washable?
Dear madam,
Thank you for asking.Top Gloss has been tested on wallpapers and the results were quite good. There were no spots, visible transitions, separations or similar occurrences.However, newsprint is more complicated.Top Gloss makes the surface seem moist, so your comic books will always look wet.
We really don't know if the print will dissolve when applying Top Gloss, because we have never tested it.Maintenance is also a problem, as it surely differs in this case.I believe that this will create a lot of problems for you.Glass seems like a better option. Perhaps you can get a glass-maker's opinion on how to prevent condensation and bugs getting in.We are at your disposal if you need any further information.
I'm thinking about painting my bathroom instead of putting up ceramic tiles on the walls (except in the shower).Do you have a product which would be suited for this, and what are some things I should keep in mind?
Dear madam,
Unfortunately, we do not have a product for that application.A product werecommend for more "demanding" surfaces is Latex Strong matte/half-matte/glossy, but I can'tguarantee that it will suit your need, considering that there's a lot of steam in the bathroom.Hydroisolation is one potential solution, but we don't have products for that. If we can help you in any other way, feel free to contact us.
I have exterior oak threads on steps protected with Hempel products, but they have started todecay. I was told that you are experts in exterior oak thread protection, so I would kindly ask you for some advice. What kind of coating can be used?
Dear sir, thank you for your question, but we do not offer coatings that would be suited for this application.The coatings for exterior use on wood are not resistant to fraying, and cannot be used on threads. Since you were using Hempel's coating, the compatibility of the system with the new coating would be questionable.
I recently laid down cement screed (SAMOBORKA CEMENT SCREED 20) in my shed (15m2).I won't be putting down tiles or any kind of floors.I want to waterproof the surface and mechanically harden it with one of your products.Someone recommended BELTONTON.The specification says that it is a wear-resistant coating.I suppose that the wear in question is from walking? This would suit my needs.Could you confirm this?Is it chemically resistant to certain liquids (oil etc.)?
Dear sir,
Betonton is an acrylic paint, meant to protect concrete and facade surfaces, but I wouldn't recommend it in your case.What you need is a more durable paint than Betonton.We can offer you Kemepox waterproofing (one layer), and Kemepox Mastic (in 2 layers) for finishing.This will provide you with the robustness you need.In order to get a better image of the products, please check the technical specifications I have attached.
I haven't been able to find the characteristics of Kemolux enamel varnish for wood and metal. I was wondering what the maximum surface temperature is because I would like to paint a furnace with it.
Dear sir,
Kemolux enamel varnishes are thermally stable on temperatures up to 80°C (light tones), and 120°C (dark tones).If the furnace will operate at these temperatures, the varnish can be used.If you want a heat-resistant coating, we can offer you Termostal 400 Silver (up to 400°C), or Termostal 600 Black and Silver (up to 600°C).
We need the best protection for outdoor oak furniture.
1.A product for blocking tannin?
2.Protection from UV rays, moisture, rain, alcohol, cream...?
We are manufacturers of bar and restaurant furniture, and we want the best protection possible.
Dear sir,
wood is a natural material, and is sensitive to the weather, mostly UV radiation which breaks up the wood's structure and creates cracks on the surface.Rain or moisture can penetrate the cracks and destroy the wood.The decaying is sped up by other external factors, such as the air temperature.
Depending on the duration of the exposure, the wood will start to pale, and eventually decay.
To protect outdoor oak furniture, oils with UV filters are recommended. The filters will block the UV rays, and the oil will penetrate deep into the structure of the wood, and prevent moisture from appearing.Oil will not change the wood's natural colour.However, oils have to be reapplied annually for optimal protection.Unfortunately, we do not offer such oils.
Hello,
I'm an unsatisfied customer.
At the Color store in Pleternica, we bought ALGENON PLUS for mould and algae. I sprayed the walls five hours ago, and there is no effect. I followed the instructions closely!I don't know why you sell products that don't do anything. It's like I sprayed the walls with water.It didn't cost HRK 3, but HRK 33, which is kind of a big deal.
Dear madam,
we are sorry you are not satisfied. You expected for the mould to disappear after you sprayed it.However, Algenon is not a chlorine-based product. Those products kill surface mould, but do not destroy the mould inside the wall. They offer a temporary solution.Algenon will fix the mould problem in the long-term, because it has a biocide base, and it penetrates the wall to destroy the mould.In order for it to work, the wall you're spraying has to be dry, and you have to wait 24 hours before repainting it.Surface mould should be mechanically removed from the wall to achieve better results.
You wanted your wall to turn white after spraying it. That can be achieved with any chlorine-based product (bleach, Domestos etc.).Hope this helps...We are at your disposal if you need any further information.
Does Kemopol Premium paint have a plastic-like surface effect on a wall?I'm not sure what to get - Kemopol Plus or Kemopol Premium? I don't want my wall to look like it's covered in plastic.
Dear madam,
A wall painted with Kemopol Premium does not look plastic, but it is a high quality paint with a high binder percentage, which means that it can be washed (class II).Kemopol Plus has a lower binder percentage, and cannot be washed. I would recommend Kemopol Plus. If you have any other questions, feel free to contact us.